Our approach to patient care is characterised by respect, friendliness, professionalism and understanding. Our caring spirit is authentic.
Casey Gate Medical Centre is an Accredited General Practice (AGPAL) dedicated to providing personalised, professional, and high quality healthcare for all our patients.
Our practice is usually open 7 days a week with the convenience of evening appointments Tuesdays through Thursdays.
We are a Bulk billing clinic with no out of pocket expenses for standard consultations for valid Medicare card holders.
We offer 24/7 access to online appointments for your convenience with skilled male and female doctors offering a wide range of services.
At Casey Gate Medical Centre, you are assured to receive timely care and advice appropriate to your individual needs. You have the opportunity to discuss your health concerns, and receive information to make informed decisions about your care, and the care of your loved ones. Our priority is to consistently deliver the best care possible by attending to your immediate needs as well as preventative care in a friendly, supportive, and welcoming environment.
All our Doctors and Nurses participate actively in continuing professional development programs to maintain and extend their broad range of medical skills.
We are a Bulk Billing clinic, with no out of pocket expenses for standard consultations for current Medicare card holders.
Additionally we are also an accredited training practice for qualified doctors seeking their specialty in general medicine and accommodate registrars working towards their Fellowship of the Royal Australian College of General Practitioners or the Australian College of Rural and Remote Medicine.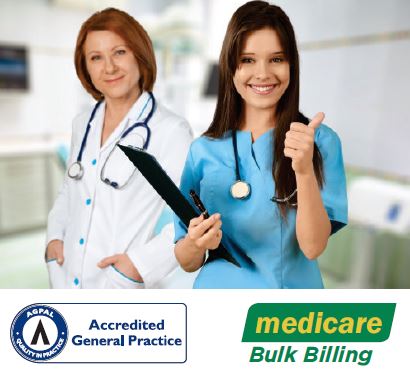 This general practice is AGPAL accredited – what does this mean?
Being accredited means that our general practice is committed to a comprehensive program which involves:
Engaging our whole practice team to review our practice's systems and processes
Opening our practice doors to allow a team of independent surveyors to assess how our practice operates
Assessment of our practice, and achievement of the nationally recognised Royal Australian College of General Practitioners (RACGP) Standards for general practices, that focus on health care quality and patient safety.
As a member of the community you may be surprised to learn that general practice accreditation is a voluntary process – which means not all practices undergo an independent on-site assessment on a regular basis.
Achievement of AGPAL accreditation reassures you that our doctors and practice team are committed to providing you with high quality health care in a safe environment.
Next time you visit our practice be sure to look out for the AGPAL Accredited General Practice Symbol or our accreditation certificate. Our practice team is proud of this achievement and as part of this process we continuously strive to make quality improvements to better your patient experience.