Welcome to Casey Gate Medical Centre
Striving for Excellence in Medical Care
Welcome to Casey Gate Medical Centre
At CGMC, you are assured to receive timely care and advice appropriate to your individual needs. We believe the patient comes first. You have the opportunity to discuss your health concerns, and receive information to make informed decisions about your care, and the care of your loved ones.
We offer a thorough and holistic approach to general practice from our experienced team of general practitioners, nurses and allied health practitioners. To learn more please see "About Us" page.
Casey Gate Medical Centre is a Bulk Billing clinic, with no out of pocket expenses for standard consultations for valid Medicare card holders. For more information about our fees and appointments, please click here.
Please visit us at 33-34 Mack Road, Narre Warren South. We are conveniently located between Casey Central Shopping Centre and Fountain Gate Shopping Centre, near Centre Road. There is ample on-site parking and Disabled parking at the practice.
Casey Respiratory Clinic NOW OPEN
OPEN 7 DAYS A WEEK, EVENINGS AND WEEKENDS – CALL (03) 9975 4196
Casey Respiratory Clinic is pleased to be part of the Australian Government's response to COVID-19. The purpose of this GP Respiratory Clinic (GPRC) is to assess, test and treat people with mild-to-moderate respiratory conditions, including COVID-19, influenza and pneumonia. Currently, we are unable to test anyone without any symptoms. This includes pre travel, pre surgery testing, and close contacts without symptoms. Only those patients with symptoms can be tested at our clinic. This may include (but not limited to): fever, cough, sore throat, runny nose, muscle aches and pains, diarrhea, loss of taste/smell, shortness of breath, tiredness, etc.
Casey Respiratory Clinic, located in a separate building next to our general practice.  The service is generally Bulk Billed with no out-of-pocket costs for anyone. You do not need GP referral, you can book online at a time convenient to you. If you require pre-surgery and pre-travel Covid testing, please visit one of the state testing hubs or call the Coronavirus hotline.
Casey Respiratory Clinic is open from 7am to 9pm from Monday to Saturday and 9am to 5pm on Sundays and most public holidays. Hours subject to change as per demand. Please see available appointments online prior to arrival if before 8am or after 8pm.
All pathology services are provided by Australian Clinical Labs – 1300 134 111
You can make an appointment in advance by calling (03) 9975 4196 or search for Google Casey Respiratory Clinic and book through HotDoc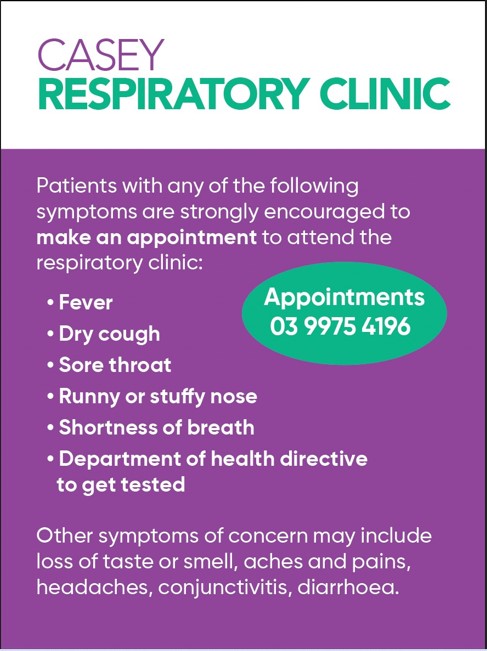 FOR MEDICAL EMERGENCIES CALL TRIPLE-ZERO (000):
Please ask for an ambulance if you are experiencing chest pains, breathing difficulties or any other medical emergency.